Hi,
I've been trying to update C5 from 9.1.3 to 9.2.1, but the update screen is throwing a warning and no useful info. I'm not sure how to proceed and my hosting provider has given notice that PHP will be updated to 8.2 on September 30.
The update screen shows only the warning, but no info (see screenshot). I'm also adding the website info.
Is it safe to update? If not, what do I need to do to update safely?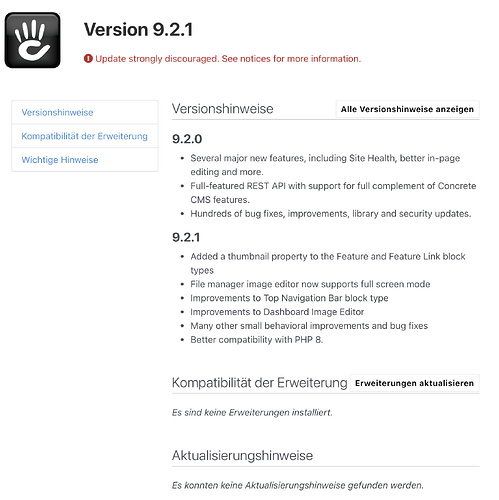 # Concrete Version
Core Version - 9.1.3
Version Installed - 9.1.3
Database Version - 20220908074900

# Hostname
wp579

# Environment
production

# Database Information
Version: 5.7.43-47-log
SQL Mode: NO_ENGINE_SUBSTITUTION

# Concrete Packages
None

# Concrete Overrides
themes/2018/default.php, themes/2018/description.txt, themes/2018/resources/css/scss/style.scss, themes/2018/resources/css/scss/_reset.scss, themes/2018/resources/css/scss, themes/2018/resources/css/style.css, themes/2018/resources/css/style.css.map, themes/2018/resources/css/style.backup.css, themes/2018/resources/css/backup/scss/style.scss, themes/2018/resources/css/backup/scss, themes/2018/resources/css/backup/style.css, themes/2018/resources/css/backup/style.css.map, themes/2018/resources/css/backup/style.backup.css, themes/2018/resources/css/backup, themes/2018/resources/css, themes/2018/resources/images/burgerMenuCloseIcon.svg, themes/2018/resources/images/burgerMenuIcon.svg, themes/2018/resources/images/External-CIblue.svg, themes/2018/resources/images/External-white.svg, themes/2018/resources/images/impressumHome.gif, themes/2018/resources/images/logo-desktop.png, themes/2018/resources/images/logo-mobile.png, themes/2018/resources/images/phone.svg, themes/2018/resources/images/logo.svg, themes/2018/resources/images/mapsPlaceholderImage.jpg, themes/2018/resources/images/placeholder.gif, themes/2018/resources/images/twitter.svg, themes/2018/resources/images/teamHomePage.jpg, themes/2018/resources/images, themes/2018/resources/js/jquery-3.1.1.min.js, themes/2018/resources/js/jquery-3.2.1.min.js, themes/2018/resources/js, themes/2018/resources, themes/2018/home.php, themes/2018/thumbnail.png, themes/2018

# Concrete Cache Settings
Block Cache - On
Overrides Cache - On
Full Page Caching - On - If blocks on the particular page allow it.
Full Page Cache Lifetime - Every 1440 minutes.

# Server Software
Apache

# Server API
apache2handler

# PHP Version
8.0.30-he.0

# PHP Extensions
apache2handler, bcmath, bz2, calendar, Core, ctype, curl, date, dba, dom, exif, fileinfo, filter, ftp, gd, gettext, hash, iconv, imap, intl, json, ldap, libxml, mbstring, mysqli, mysqlnd, openssl, pcre, PDFlib, PDO, pdo_mysql, pdo_sqlite, Phar, posix, pspell, Reflection, session, shmop, SimpleXML, soap, sockets, SPL, sqlite3, standard, sysvmsg, sysvsem, sysvshm, tidy, timezonedb, tokenizer, xml, xmlreader, xmlwriter, xsl, zip, zlib

# PHP Settings
max_execution_time - 30
log_errors_max_len - 1024
max_file_uploads - 50
max_input_nesting_level - 64
max_input_time - 60
max_input_vars - 1000
max_multipart_body_parts - -1
memory_limit - 256M
post_max_size - 32M
upload_max_filesize - 32M
zend.exception_string_param_max_len - 15
ldap.max_links - Unlimited
mbstring.regex_retry_limit - 1000000
mbstring.regex_stack_limit - 100000
mysqli.max_links - 50
mysqli.max_persistent - Unlimited
pcre.backtrack_limit - 1000000
pcre.recursion_limit - 100000
session.cache_limiter - <i>no value</i>
session.gc_maxlifetime - 7200
soap.wsdl_cache_limit - 5
unserialize_max_depth - 4096