New to this version of C5, the last one I used was 5.x. A lot of nice changes to the interface but its still familiar. I like it.
Using Concrete 9.2.1, I can't add pages. It doesn't give me an option to assign a parent page, so I can't publish the page, only save as draft.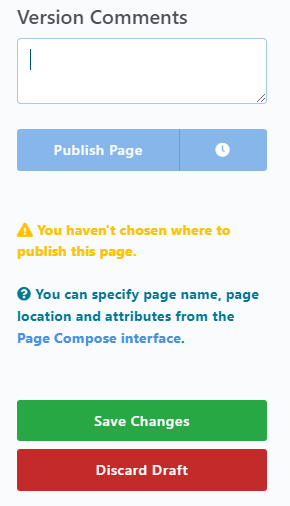 The composer page is blank. I have turned off all add blockers and I don't see any other error messages. Any ideas? Do I need to downgrade to the last version of 8?
Environment Info:
Concrete Version
Core Version - 9.2.1
Version Installed - 9.2.1
Database Version - 20230503095900
Hostname
Environment
production
Database Information
Version: 8.0.33-cll-lve
SQL Mode: NO_ENGINE_SUBSTITUTION
Concrete Packages
None
Concrete Overrides
None
Concrete Cache Settings
Block Cache - Off
Overrides Cache - Off
Full Page Caching - Off
Full Page Cache Lifetime - Every 6 hours (default setting).
Server Software
LiteSpeed
Server API
litespeed
PHP Version
7.4.33
PHP Extensions
bcmath, bz2, calendar, Core, ctype, curl, date, dba, dom, enchant, exif, fileinfo, filter, ftp, gd, gettext, gmp, hash, i360, iconv, igbinary, imagick, imap, intl, ionCube Loader, json, ldap, libxml, litespeed, mbstring, memcached, mysqli, mysqlnd, odbc, openssl, pcntl, pcre, PDO, pdo_mysql, PDO_ODBC, pdo_pgsql, pdo_sqlite, pgsql, Phar, posix, pspell, readline, redis, Reflection, session, shmop, SimpleXML, soap, sockets, SPL, sqlite3, standard, sysvmsg, sysvsem, sysvshm, tidy, tokenizer, xml, xmlreader, xmlrpc, xmlwriter, xsl, Zend OPcache, zip, zlib
PHP Settings
max_execution_time - 300
log_errors_max_len - 1024
max_file_uploads - 20
max_input_nesting_level - 64
max_input_time - -1
max_input_vars - 10000
max_multipart_body_parts - -1
memory_limit - 768M
post_max_size - 128M
upload_max_filesize - 128M
ic24.api.max_timeout - 7
ldap.max_links - Unlimited
mbstring.regex_retry_limit - 1000000
mbstring.regex_stack_limit - 100000
memcached.sess_lock_max_wait - not set
memcached.sess_lock_wait_max - 150
memcached.sess_server_failure_limit - 0
mysqli.max_links - Unlimited
mysqli.max_persistent - Unlimited
odbc.max_links - Unlimited
odbc.max_persistent - Unlimited
pcre.backtrack_limit - 1000000
pcre.recursion_limit - 100000
pgsql.max_links - Unlimited
pgsql.max_persistent - Unlimited
redis.pconnect.connection_limit - 0
session.cache_limiter - no value
session.gc_maxlifetime - 7200
soap.wsdl_cache_limit - 5
unserialize_max_depth - 4096
opcache.max_accelerated_files - 10000
opcache.max_file_size - 0
opcache.max_wasted_percentage - 5