Hello there,
I am enquiring about your add-on options on concrete 5. I would like to receive a quote for my request below.
I have spent a lot of time browsing the Add-ons section on concrete 5, however, I haven't been able to find what I am after. I am hoping that a developer will either be able to create this from scratch for me, or alter an existing add on to allow for this:
I am looking for:
An add-on option where I can create a "business lifecycle graphic design" inclusive of 4 stages, namely, "early stage start up", "start up", "scale up" and "enterprise". I would like this design to look aesthetically pleasing and be a "clickable infographic" i.e. if I am a start up business looking at this page, I'd like to be able to hover on the start-up section of the design and for there to then be a pop up with more info regarding start-up services. Ideally, this information would also be clickable so that it could direct the audience to an additional landing page for each of these stages.
Could you please suggest any add-ons that you think would suit?
Note: We would prefer not to just insert an image as this won't help our SEO, but would there be an option to insert a design as an image, and then once you hover the mouse over the image, there is a pop up with more info? So therefore the text is not part of the image so the information will be readable by google.
I am wondering whether this add-on could be edited to allow for the features that we want and our custom design (we don't want the pre-set circle shape). Image Link With Content - Concrete CMS
Secondly, I would like to have another graphic design below this titled "industries we serve". Each industry will have an icon and text beneath it and will be connected with a line (please see image attached below titled ""Industries we serve" for reference of our desired look and feel of this design).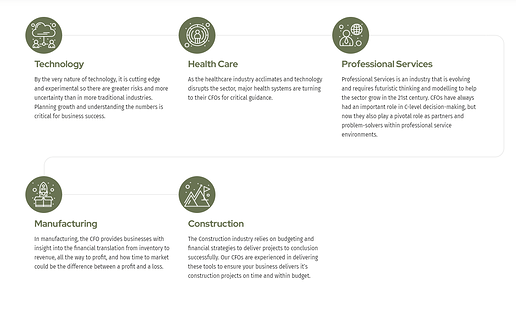 Please note that we already have an existing theme on our website, so would need to make sure that any additional developments don't interfere with our theme. Our website link is: https://www.azuregroup.com.au/
Thank you and I look forward to hearing from you soon!