hi all
does anyone know how to change the country from English to EN?
Please see attached screenshot:


Hi
Do you mean changing the name in the Switch Language block? I haven't checked if it has changed but earlier this had to be done with a Block Template.
I made mine following these instructions: https://archive.concretecms.org/community/forums/internationalization/style-language-switch-block
You put the template in the applications folder as shown here. Then you just select this template to the block.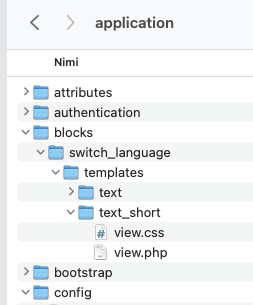 dear paivik
thank you very much! this helps already a lot!
that's what i have been looking for BUT, the links don't work somehow…


i mean it does not change the language to the right page. (eg from home DE to home EN)
any idea? i have version 8.5.7
Try to add this code in your switch_language block template (I believe you are using default template with select, so line 28 is a good place).
Albeit $languages array is created in controller, you can just override it in view template like that to make it simple.
<?php
$languages2 = [];
foreach ($languages as $k => $v) {
    $m = \Concrete\Core\Multilingual\Page\Section\Section::getByID($k);
    $languages2[$k] = $m->getCountry();
}
$languages = $languages2;
?>