EDIT: This problem is sitewide. Tested a different form on the main site and got the same behavior and this error.
"You do not have access to submit this form."


The form renders just fine but when submitting, it doesn't save the form data and it goes to a URL like "submit/2020#form2020" then loads the content of the home page on my main site even though the URL is still the microsite URL.
This issue occurs regardless if I have the setting for redirecting to a "thank you" page. This is the microsite https://spark.miniren.app/ (form is hidden right now since it doesn't work). Attached you can see how it loads the content of the main page after submitting the form.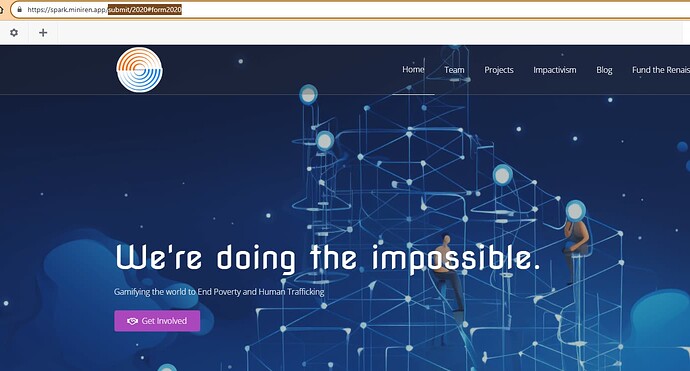 Concrete Version
Core Version - 9.2.1
Version Installed - 9.2.1
Database Version - 20230503095900
Hostname
miniren
Environment
production
Database Information
Version: 8.0.35-0ubuntu0.20.04.1
SQL Mode: ONLY_FULL_GROUP_BY,STRICT_TRANS_TABLES,NO_ZERO_IN_DATE,NO_ZERO_DATE,ERROR_FOR_DIVISION_BY_ZERO,NO_ENGINE_SUBSTITUTION
Concrete Packages
Block Builder (2.4.0), Modena Theme (2.1.7), Open Graph Tags Lite (2.1.6)
Concrete Overrides
blocks/form/templates/referral.php, blocks/form/templates, blocks/form, blocks/vidal_themes_offscreen_hero/templates/half.php, blocks/vidal_themes_offscreen_hero/templates, blocks/vidal_themes_offscreen_hero, blocks/vidal_themes_hero_unit, blocks/vidal_themes_tabs/templates/accordion/view.php, blocks/vidal_themes_tabs/templates/accordion, blocks/vidal_themes_tabs/templates, blocks/vidal_themes_tabs, blocks/page_list/templates/projects.php, blocks/page_list/templates, blocks/page_list, blocks/cta/scrapbook.php, blocks/cta/config-bb.json, blocks/cta/db.xml, blocks/cta/composer.php, blocks/cta/icon.png, blocks/cta/add.php, blocks/cta/controller.php, blocks/cta/css_files/form.css, blocks/cta/css_files, blocks/cta/edit.php, blocks/cta/view.php, blocks/cta/form.php, blocks/cta, themes/landing_home.php, themes/elements/landing_header.php, themes/elements
Concrete Cache Settings
Block Cache - Off
Overrides Cache - Off
Full Page Caching - Off
Full Page Cache Lifetime - Every 6 hours (default setting).
Server Software
Apache/2.4.57 (Unix) OpenSSL/1.1.1f
Server API
fpm-fcgi
PHP Version
7.4.33
PHP Extensions
bcmath, bz2, calendar, cgi-fcgi, Core, ctype, curl, date, dom, exif, FFI, fileinfo, filter, ftp, gd, gettext, gmp, hash, iconv, imap, intl, json, ldap, libxml, mbstring, mysqli, mysqlnd, odbc, openssl, pcntl, pcre, PDO, pdo_dblib, pdo_mysql, PDO_ODBC, pdo_pgsql, pdo_sqlite, pgsql, Phar, posix, readline, Reflection, session, shmop, SimpleXML, snmp, soap, sockets, sodium, SPL, sqlite3, standard, sysvsem, tidy, tokenizer, xml, xmlreader, xmlrpc, xmlwriter, xsl, Zend OPcache, zip, zlib
PHP Settings
max_execution_time - 30
log_errors_max_len - 1024
max_file_uploads - 20
max_input_nesting_level - 64
max_input_time - -1
max_input_vars - 5000
memory_limit - 256M
post_max_size - 1024M
upload_max_filesize - 512M
ldap.max_links - Unlimited
mbstring.regex_retry_limit - 1000000
mbstring.regex_stack_limit - 100000
mysqli.max_links - Unlimited
mysqli.max_persistent - Unlimited
odbc.max_links - Unlimited
odbc.max_persistent - Unlimited
pcre.backtrack_limit - 1000000
pcre.recursion_limit - 100000
pgsql.max_links - Unlimited
pgsql.max_persistent - Unlimited
session.cache_limiter - no value
session.gc_maxlifetime - 7200
soap.wsdl_cache_limit - 5
unserialize_max_depth - 4096
opcache.max_accelerated_files - 4000
opcache.max_file_size - 0
opcache.max_wasted_percentage - 5